Uber & Lyft Accident Attorneys
Offering Experienced Representation in Salt Lake City
For many, Uber and Lyft provide an innovative mode of transportation. If you don't drive very often, they're a fast and fairly affordable way of getting around, and tend to be more convenient than taxis across the board. Sadly, the rise of ridesharing apps has also led to a rise of ridesharing hazards and accidents.
At Lowe Law Group, our skilled team of attorneys has recovered millions of dollars for clients. We understand that as wonderful as advances in technology are, they also come with downsides. That's why we our committed to representing victims of Uber and Lyft accidents, and fighting for them at the highest levels. Contact Lowe Law Group today for a lawyer with a history of securing results for all types of car accident and injury cases.
Injured in a collision involving an Uber or Lyft vehicle? Call (801) 900-4681 today to discuss your case.
When Ridesharing Accidents Strike
At Lowe Law Group, our team of legal professionals are equipped to provide aid for numerous types of Uber and Lyft accidents.
Ridesharing accidents may include:
Uber/Lyft drivers causing an accident while you were a passenger: If you were a passenger in an Uber or Lyft at the time of an accident, you may be entitled to file a claim against the at-fault party, whether that is the Uber/Lyft driver or another driver who caused the accident.
Uber/Lyft drivers causing an accident while you were a driver: If you are involved with a collision involving an Uber/Lyft driver while on the road, and they were the at-fault party, you may be entitled to file a claim against the driver. It is a good idea to hire a lawyer in these cases, as the driver may try to argue that you share fault for the accident, meaning that Uber/Lyft will attempt to provide less compensation than you deserve.
Being struck by an Uber/Lyft driver as a pedestrian: You are entitled to file a claim against the driver if you are struck by an Uber or Lyft vehicle. If a settlement cannot be reached through insurance, a trusted attorney will argue to secure compensation for your injuries in court.
Determining Liability in an Uber/Lyft Accident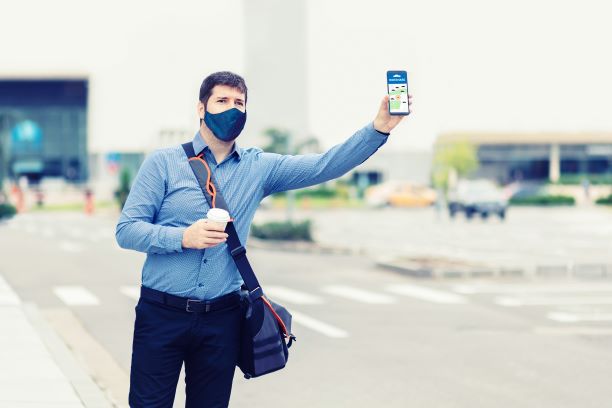 What makes parsing through liability following a ridesharing accident difficult is that so much depends on when exactly the accident occurred. Different states have different statutes when it comes to liability compensation. However, Uber or Lyft may try to avoid full liability, depending on the circumstances surrounding the accident and the driver.
Uber and Lyft break down liability coverage based on:
If the app was off: Uber and Lyft's insurance do not provide liability coverage for accidents where drivers are operating their vehicle for personal use. In these cases, you will need to negotiate with that driver and their insurance company directly.
If the driver is waiting on a request: In cases where an Uber or Lyft driver gets involved in an accident while the app is on, but they are waiting on a request for a pick-up, Lyft and Uber will usually cover liability up to $100,000 bodily injury and up to $25,000 for property damage. That said, Uber and Lyft may attempt to avoid full compensation in these cases, and to argue that a third-party bears responsibility. This is where the assistance of an attorney becomes necessary.
If the driver has picked up a passenger: In accidents where drivers have the app on, and have picked up a passenger, Uber and Lyft may cover up to $1,000,000 for an accident. However, they may try to argue that another party was at fault, if there was another vehicle involved in the collision, which is why it is a good idea to hire a lawyer to help determine all parties you may be entitled to receive coverage from and to assist you in expediting the liability process.
Liability in a rideshare accident is typically based on the principle of negligence, which is a reckless or careless behavior. Some actions that can be qualified as "negligence" in this context include:
Speeding
Texting
Disregarding traffic laws
Otherwise not paying attention to the road
How Do Rideshare Accident Cases Differ from Other Accidents?
The greatest difference between an Uber/Lyft accident and a typical motor vehicle accident is the insurer that our firm targets for your compensation. Knowing which insurer will be held accountable requires a full investigation from our firm. Uber and Lyft accidents are more complicated in nature and often have an extra complexity of going through the Uber driver's insurance policy. As long as you are represented by a capable attorney, you can trust that your case will move smoothly.
Proving Negligence and Dealing with Insurance Companies
Uber and Lyft are powerful companies, with their own in-house legal counsel and insurance coverage. To successfully secure compensation from these ridesharing giants, you will need to be ready to prove significant negligence on their part in court.
Proving negligence requires you to establish:
Duty: All drivers have a duty to follow the rules of the road. In ridesharing cases, it is also important to argue that the driver had an additional duty to protect the safety of their passenger and those around them.
Breach: To establish negligence, the plaintiff has to show that the defendant clearly breached their duty to keep others safe while driving.
Causation: Accident cases are largely dependent on the ability of the plaintiff to show that the defendant's actions caused them harm.
Actual Harm: Finally, the harm that the victim suffered in any accident must be measurable, in physical, economic, or other demonstrable ways.
Following a landmark case in 2015, in which an Uber driver's negligence tragically led to the death of a 6-year-old girl, it has become the legal standard for ridesharing companies to settle in the wake of accidents. However, it is still a good idea to secure a lawyer for assistance, as the right attorney will argue for maximum compensation in a way your insurance company may not be able to. Insurance companies worry about their bottom line above all else, and therefore have an incentive to resolve accident cases quickly. Also, as mentioned above, Uber and Lyft can use their considerable resources to prevent you from receiving everything you are owed, and may even try to argue that you are partially at fault, depending on the details surrounding a given accident.
By hiring an attorney, you may be able to receive full compensation for ongoing expenses, including:
Medical bills
Medications
Physical therapy
Loss of income
Loss of earning potential
Emotional therapy
Additional damages related to ongoing pain and suffering
Wrongful death (if a loved one was killed)
Don't Wait Until It's Too Late! Contact Lowe Law Group Today
At Lowe Law Group, our rideshare accident lawyers have been fighting for clients across multiple states for years. We believe that everyone deserves quality representation, which is why we work on a contingency fee basis. That means that unless we achieve financial recovery, you won't owe us anything. Don't let Uber and Lyft accidents stop you from living your best life. Contact our Salt Lake City Uber and Lyft accident attorneys today for representation that will fight to hold rideshare companies accountable and secure every cent you are owed.
Lowe Law Group is available by phone at (801) 900-4681, or you can contact us online to schedule a free consultation.
Additional Resources
A Sense of Understanding

We will step into your shoes to better understand your goals and effectively fight for the justice that you deserve in your case.

A Client-First Philosophy

Our team is prepared to do whatever is necessary to ensure your comfort and convenience, from traveling to you to arranging your medical care.

A Personalized Experience

Our attorneys refuse to treat you like another number and are committed to being directly involved in your case every step of the way.

A Results-Driven Approach

We have recovered over $265 million dollars for injury victims in the past and are committed to winning your case next.

A Network of Support

When you hire our firm, you not only get the support of one attorney but a large team guiding you through the legal process.

A Compassionate Team

Our attorneys are truly empathetic advocates whom you can count on to be in your corner when you need them most.