Portland Motorcycle Accident Attorneys
You Pay Nothing Unless We Win Your Case
Were you injured in a motorcycle accident in the Portland area? Lowe Law Group is ready to listen to your story and learn how we can help you fight for the fair compensation you deserve. When someone else is negligent or reckless, you do not have to simply suffer the consequences on your own. Our team can help you file a personal injury claim and seek recovery for your damages, including your medical bills, lost earnings, pain and suffering, and more. We also help the surviving family members of those wrongfully killed in motorcycle accidents in Portland and throughout Oregon.
When you choose Lowe Law Group, you don't just get one attorney working for you—you get an entire team of legal professionals and accident reconstruction experts, as well as medical specialists, all working together to build the strongest case possible. We strive to maximize our clients' claims and our aggressive approach has helped us recover millions of dollars for our clients over the years. We take great pride in celebrating our clients' victories, because they show the real ways our team has helped real people successfully navigate some of the most difficult times in their lives.
To learn how we can help you get back on your feet after a motorcycle accident, contact us online or call (503) 773-5242 for a free, no-pressure consultation. We offer a no recovery, no fee guarantee!
How Do Motorcycle Accidents Happen?
The number one cause of motorcycle accidents is negligence. All too often, motorists in cars, trucks, and other vehicles are careless, reckless, or simply not paying attention—with devastating results.
Some of the most common causes of motorcycle accidents in Oregon include:
Distracted driving
Texting/cell phone use
Speeding
Drunk driving
Traffic law violations
Failure to follow traffic control devices
Failure to yield the right-of-way
Road rage
Street racing
Reckless/aggressive driving
Failure to check blind spots
Unsafe passing/merging
Oregon's Rule of Comparative Negligence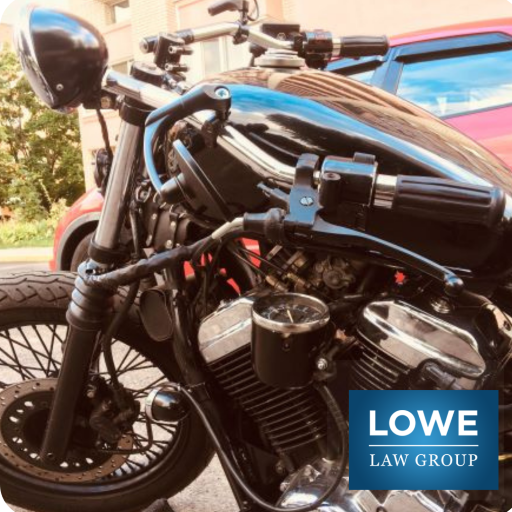 Whatever the cause of your motorcycle accident, if you believe someone else was at fault, you could be entitled to financial compensation for your damages. In fact, under Oregon's rule of comparative negligence, you could even be able to recover a settlement or verdict if you were partially at fault for the motorcycle accident. Reach out to our Portland motorcycle accident attorneys to learn more during a free, no-pressure consultation.
Why You Need an Attorney with the Right Experience
According to a 2019 report by the United States Department of Transportation (USDOT) National Highway Traffic Safety Administration (NHTSA), motorcyclists are nearly 29% more likely than a driver of another motor vehicle to lose their life in a fatal accident. This information does not necessarily dictate that the motorcyclist is at fault but that they are vulnerable and exposed, especially when other motor vehicles act negligently.
When it comes to your motorcycle accident claim, choosing an attorney with the right experience matters. Motorcycle accident cases are often more complex than other types of motor vehicle accident claims. For one thing, motorcyclists tend to sustain severe, life-altering injuries when they are hit by larger, heavier vehicles.
Some of the most common motorcycle accident injuries include:
Broken bones (fractures)
Soft tissue injuries
Friction burns ("road rash")
Traumatic brain injuries
Spinal cord injuries (including paralysis)
Nerve damage
Accidental amputation
Internal organ damage
Serious cuts, scrapes, and abrasions
Crush injuries
These and other catastrophic injuries have immense, long-lasting effects. You need an attorney who knows how to not only fight for the compensation you need right now for your current medical costs but also for expenses associated with your projected lifetime care, lost future earnings, and ongoing pain and suffering.
Another thing that makes motorcycle accidents so complex is the prevalent misconception that motorcycles are inherently dangerous and that their operators are dangerous, risk-taking drivers. While we at Lowe Law Group know that this is simply not true, juries often do not. Most people can relate to a car accident victim, as most people drive cars. But few people ride motorcycles, and fewer jury members will be able to relate to your situation. You need an attorney that can present your case in such a way that the jury can overcome preconceived notions about motorcyclists and relate and empathize with your situation.
Speak to Our Motorcycle Accident Attorneys for the Legal Service Your Case Deserves
At Lowe Law Group, we have the skill, resources, and experience to effectively handle even the most complex of motorcycle accident claims. We take the time to really listen to your story and understand your personal goals. From there, we are able to tailor your case to your specific needs and fight for the full, fair compensation you are owed.
We do everything we can to remove the stress from your shoulders and make the legal process as easy and hassle-free as possible. Our Portland motorcycle accident lawyers are available by phone 24/7 and we provide regular, consistent communication regarding your case throughout the entire process.
We can handle most aspects of your case over the phone, but we are always happy to meet with you in person if needed. We can even travel to you if your injuries prevent you from coming to our office. We provide services in Spanish for our Spanish-speaking clients.
Ready to speak to an attorney about your motorcycle accident? Call us at (503) 773-5242 today to request a consultation, no pressure and absolutely no cost.
A Sense of Understanding

We will step into your shoes to better understand your goals and effectively fight for the justice that you deserve in your case.

A Client-First Philosophy

Our team is prepared to do whatever is necessary to ensure your comfort and convenience, from traveling to you to arranging your medical care.

A Personalized Experience

Our attorneys refuse to treat you like another number and are committed to being directly involved in your case every step of the way.

A Results-Driven Approach

We have recovered over $265 million dollars for injury victims in the past and are committed to winning your case next.

A Network of Support

When you hire our firm, you not only get the support of one attorney but a large team guiding you through the legal process.

A Compassionate Team

Our attorneys are truly empathetic advocates whom you can count on to be in your corner when you need them most.